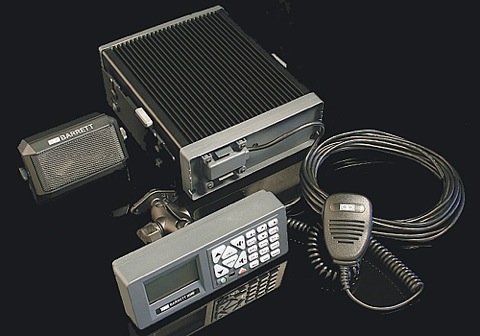 Barrett 2030 HF transceiver transceiver is additional company Barrett Communications, focused on consumers who do not require some of the more advanced features offered by the transceiver 2030.
Heart Barrett 2030 transceiver flexible processor core with a controlled and powerful DSP, which provides excellent reception of signals and interference suppression, along with minimum power consumption.
Configured in a lightweight aluminum chassis and heavy-duty Barrett 2030 transceiver is certified for compliance with MIL STD 810F for drop, dust, temperature, shock and vibration.
Barrett 2030 transceiver is ready for use as a desktop transceiver, however, is not expensive when you add "mobile set" can easily be installed on any vehicle (such as in the trunk). In large organizations, this option significantly simplifies the process of changing the status of the mobile subscriber in the base.
Digital signal processing (DSP)
Separate DSP chip provides modulation and demodulation of the signal systems, including ALE, selective call signal suppression, as well as reduce noise in the signal.
Direct call telephone subscriber
Option "Telcall" allows direct call telephone subscriber in the presence of HF communications network equipment interface to the telephone line, manufactured by Barrett or any other manufacturer.
Safe call
This option provides a medium level encryption phone signal for confidentiality.
Selective call option
In the transceiver provides the use of a selective call systems based on CCIR-493-4 protocols which are distributed free, and OEM protocol, compatible with most produced HF equipment.
SMS paging
Provides for the transfer of short text messages from one transceiver to another in 2030. In 2030 Barrett transceiver has an alphanumeric keypad (similar to mobile phones), which allows you to enter text messages without the use of external devices (PC or Pocket PC).
BITE-built testing equipment
Allows you to test the efficiency of the receiver, selective call, suppress reception work VCO and a serial communication port.
Programming via the IR port or serial port
To simplify programming, the radio in the car with a laptop models 2000 series provides the IR port. Thus, you can download all necessary parameters without transceiver cable connections using specialized software.
Specification Barrett 2030
- Power 125 W PEP phone ± 1.5 dB
- Sensitivity (mV): 0,224 (-120dBm for 10dB SINAD - mode J3E, preamp on)
- Number of channels up to 30 programmable channels (simplex or half-duplex)
- Frequency range 1.6 - 30 MHz (transmission), 500 kHz - 30 MHz (downlink)
- Weight
The radio unit in 2030: 2.36 kg
Vynostnaya panel in 2030: 0.22 kg
2030 transceiver assembly: 2.58 kg
- Power supply 2030-13.8VDC +20% / -10% (negative ground) Protection against reverse polarity switching. Protection switching overvoltage.
- Dimensions
2030 radio unit: 185 mm (W) x 270 mm (D) x 70 mm (H)
- Types of J3E (USB, LSB) - H3E (AM) - J2A (CW) - J2B (AFSK) Optional J2B (AFSK) with narrow-band filter
- Operating temperature range from -30 to +60 ° C Relative Humidity: 95%
- Protected in accordance with MIL-STD-810F including shock, the
vibrations, humidity
Documentation  
Data Sheet 2030