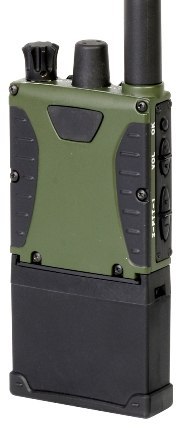 Personal portable radios RF-7800S-TR

RF-7800S-TR provides secure transmission of digitized voice and data to each member of the group without diverting his attention from the assigned task. Small, lightweight radio fits in your pocket, and can be powered by a rechargeable lithium-ion battery or optional battery holder, using commercially available batteries AA.
Unique digital wireless network allows you to organize a reliable connection even when the main and trunking services are not available. Network is designed to provide reliable coverage of large radii in complex urban environments. Full duplex, based on the priority of voice konfentssvyaz allows multiple simultaneously transmitting stations in the network with an unlimited number of listeners - allows communication in a more natural and dynamic operating environment, free from the constraints of the traditional half-duplex radio.
Interrupt priority station (leader) ensures that important information will be obtained even when the network is loaded. 14-position channel selector may be modified in order to satisfy the communication requirements of the customer. You only select the appropriate channel with the selector - the rest is done automatically. The radio station is ready for data transmission and has a built-in receiver SPS GPS, providing a comfortable position tracing and messaging services. Standard USB data interface allows you to connect a PC or PDA for applications with advanced features. Accessory port wireless short-range radio allows you to manage, including the intensification of PTT.
All transmissions are encrypted built Citadel ® II ASIC. Advanced Encryption Standard (AES) and Harris Citadel
can be selected in the standard configuration. Team Radio - companion for Leader Radio, which
adds additional interfaces and processing capabilities of the software.
Documentation 
Data sheet radio RF-7800S-TR
RF-7800S Team Radio - Надежная связь, которую Вы ожидаете от Harris.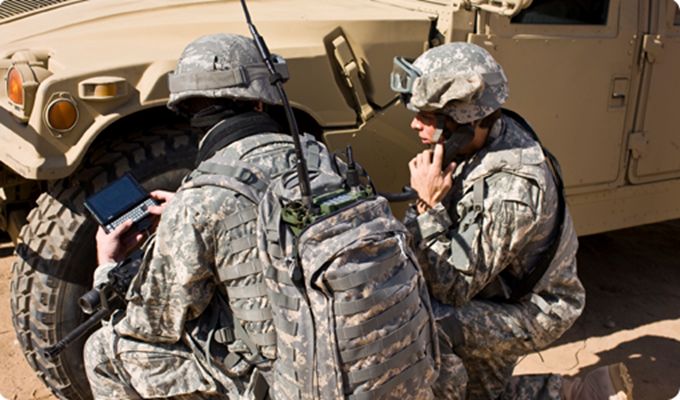 Wearable HF radios RF-7800H-MP

Radio HF / VHF worn RF-7800H-MP is a further development of the existing model AN/PRC-150 (C), relating to the family of radio stations Falcon II, and has [1]:
- The smallest dimensions and weight, combined with a high speed and shirokopolosnosnymi signals used to transmit data among existing wearable (knapsack) radio stations;
- Speed ​​transmission of broadband data signal to 120 kbit / s;
- Full compatibility with HF radios Falcon II family and their accessories.
With its small size and compact design provides continuous coverage of the radio frequency range from 1.5 to 60 MHz, operates from a single battery will reduce the weight of the radio station. Way radios delivers 20 watts of output power in the HF frequency range and 10 W - in the VHF range.
Way radios RF-7800H-MP HF radios compatible with Falcon II family of both advanced features secure transmission of voice and data, and on the network capabilities. The combination of a reliable digital voice modem and a serial data transmission ensures stable operation in harsh conditions HF radio communications.
The radio includes an ultra-reliable operation with 3G-signals, giving a final opportunity to voice and SMS messages while working in radio channels with very difficult conditions in which existing types of signals are not able to provide work.
ECCM successive tonal signals hopping frequencies with DSP notch filter with reliable obdinennye vocoder provide reliable, secure communications in the HF radio channel with a high level of interference. Built ALE mode of the third generation based on the standard STANAG-4538, provides highly automatic connection and data transfer protocols, creating conditions for fast, reliable and error-free delivery of information transmitted in the most difficult conditions radio communications.
With a significant increase in computing power, worn radio RF-7800H-MP is a high-tech means of communication with the ability to constantly upgrade and adapt to future requirements and new signals and is a new generation of broadband HF portable radio, tasks due today and tomorrow.
Documentation 
Data sheet radio RF-7800H-MP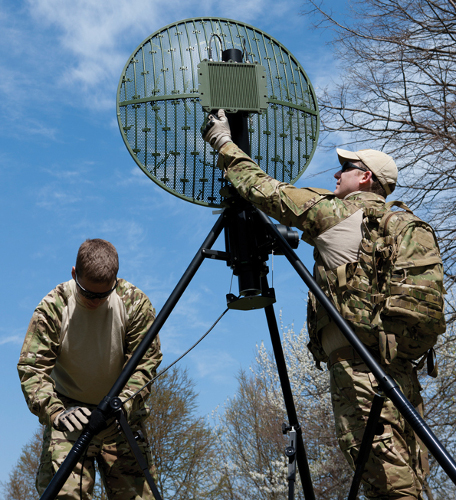 Broadband Ethernet transceiver RF-7800W-OU440
RF-7800W Broadband Ethernet Radio uses in his work proven OFDM technology to provide high-performance Ethernet over wireless networks. In the line of sight RF-7800W can provide reliable communication at distances greater than 50 km. Execution protocol all-Internet Protocol (IP) for RF-7800W provides docking Ethernet LAN and WAN, on proven to Ethernet data rates greater than 80 Mbps. RF-7800W provides unmatched flexibility with support spekralnuyu: four different modes with channel width (5.10, 20.40 MHz) Point-to-Point (PTP) architecture and three different modes with channel width (5,10, and 20 MHz) Point-to-Multipoint (PMP) architecture and specification for the center frequency of 1 MHz increments. Extremely low latency in PTP (less than 4 ms), and PMP (less than 10 ms), ensures the successful delivery of a package of broadband applications such as, for example, VoIP, video transmission in real time, teleconferencing, and C4I. Designed for heavy external conditions, the radio receives a constant voltage supply device via a standard Ethernet CAT-5 cable.
Working in the frequency range of 4.4-5.0 GHz, RF-7800W can be justified decision: to meet the challenges of public safety, for emergency services, for training and simulation networks, and long / short-distance network communications in battlefield conditions. Transmission can be encrypted by means of built-in encryption or using external Ethernet Inline Network Encryption (INE) devices.
Light RF-7800W simply configure and deploy. Using a standard Web-browser, the operator has access to all the required configuration items and statistics necessary for configuring and monitoring the work. Independent application control network may also be used via the standard interface SNMP.
RF-7800W - secure, reliable wireless broadband for commercial and
military purposes.
Documentation 
Data sheet radio RF-7800W