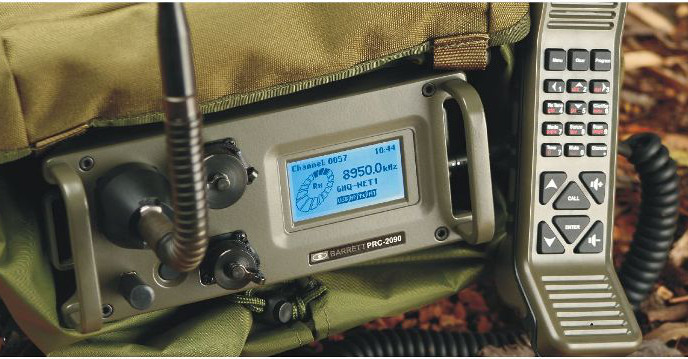 Australian company Barrett Communications has launched a new radio communications HF range 2000 series different from previous products even more interesting properties, design solutions, specifications and technical parameters.
PRC-2090 tactical worn station provides increased power output to 100 watts peak envelope prepared for the road version of operating condition.
PRC-2090 - it is durable, extremely specialized, worn (Knapsack) tactical radio with all the features offered by traditional suppliers backpack products, but with a more realistic price.
Resistance to total immersion to a depth of 1 m, automatic connection (ALE) 2G MIL-STD 188-141B (FED STD 1045) - the third generation ALE (3G ALE) with significantly enhanced features and performance is included in MIL-STD-188- 141B, while maintaining backward compatibility with 2G ALE, and adopted by the NATO STANAG 4538.
The system does not require frequency hopping base (leading) synchronization station, there is no delay entry to establish interoperability. The system provides excellent protection against electronic attacks EW providing from 5 to 25 spikes per second using digital coding key 10 and the user selectable bandwidth spikes in accordance with the type of antenna.
Internal modem cards provide support CLOVER STANAG 2000 or 5066 or PACTOR.
Noise reduction system based on DSP processor reduces external noise interference, reduces the effects of interference and enhances audio signals, providing high quality signal reception.
Way radios PRC-2090 is supplied with an international 4-and 6-positional and digital selective calling equipment, including modes Telcall, SMS, GPS, and remote operational control, safe call point-to-point c possibility of blocking remote transceiver.
The car and the use of the basic version of PRC-2090 provides full output power of 100 W peak envelope and the telephone mode.
In the automotive version uses a new automatic antenna Barrett in 2019, which offers a fast set (typical setup time less than 1.5 seconds) in the range from 2 to 30 MHz, low power consumption, high emission efficiency and accuracy for each setting to the maximum current in the antenna (no minimum VSWR). The figure shows a customizable mobile HF antenna 2019 mounted on the car of the Australian Army.
: