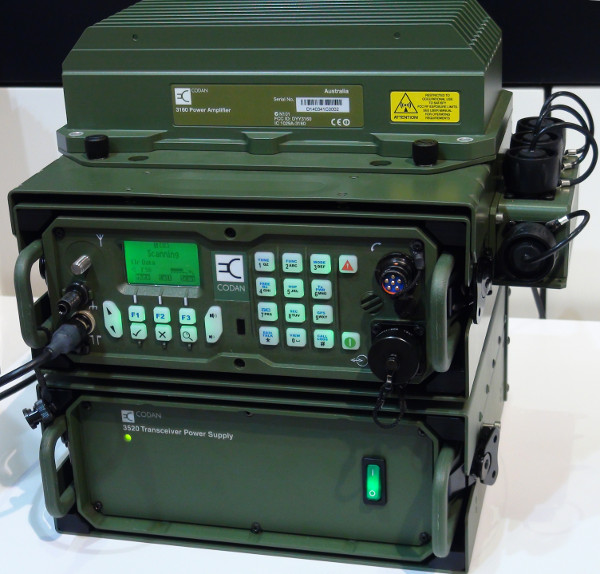 HF transceiver 2110 is a versatile and fully independent wearable (Manpack) HF radio. Rapidly deployable, specially designed for communication on the move over long distances and in remote, inaccessible areas.
This kit is easy, reliable, easy to operate and very convenient to carry. Ideal for use in any type of terrain and weather conditions.
Professional HF transceivers CODAN renowned for their reliability, and 2110 - is no exception.
This transceiver is designed to operate in harsh field conditions and meets all environmental standards, including MIL-STD-810F. Radio and battery - completely waterproof and can be submerged to a depth of one meter.
Using new technologies, m 2110 provides low power consumption. Battery requires only 120 mA, which allows you to use one battery for a few days. This means that the user does not need a spare battery, which greatly facilitates weight handling. The control system monitors the battery status and shows the capacity of the battery and its condition, and prevents the battery from overcharging.
2110 has a user interface, as well as a series of transceivers CODAN NGT, which minimizes the cost of training and familiarization.
HF transceiver 2110 is fully compatible with transceivers NGT, as well as with any other radio commercial and military class.
The transceiver also features customizable quickly antennnym tuner that automatically selects the configuration mode, type antennas and starts the setup process. With a large and convenient to use display capabilities and enhanced self-calls, 2110 - very easy to use and maintain for any user.
HF 2110 has a 3-year warranty period.
Functional capabilities of portable HF radio Codan 2110:
- Super lightweight, rugged and waterproof transceiver designed for voice and data
- Continuous operation for several days on a single battery charge
- User-friendly interface, large and easy to use display and built-in speaker on the front panel
- Enhanced call:
Selective calling
Call
Page call
GPS
- Diagnosis remote transceiver with remote configuration
- Interaction with other radio commercial and military grade
- Options FED-STD-1045 ALE and MIL-STD-188-141B ALE, as well as an extended option ALE (CALM)
- Built-in fast customizable automatic antenna tuner
- Built-in digital voice signal processing EasitalkR
- Built-in GPS receiver option
- Built-in voice scrambler
Specification Codan 2110
- Power 25 Watt Peak (high) / 5 Watts Peak (low)
- Sensitivity (mV): 0.12 mV at a signal / noise ratio of 10 dB
- Number of Channels
400 channels, 10 networks
(20 and 600 channels networking option MIL-STD-188-141B ALE)
- Frequency range 1.6 - 30 MHz (transmission), 250 kHz - 30 MHz (downlink)
- Weight 2.5 kg
(4.6 kg with a nickel-metal hydride battery 8A)
- Battery
Sealed case with lead-acid battery
or nickel-metal hydride battery
- Dimensions
Transceiver: 245mm-250mm-92mm;
Transceiver with battery: 245mm-350mm, 92mm
- Modes Voice / data / CW, USB, LSB, AM, AFSK
- Operating temperature range from -30 to +60 ° C
- Protected in accordance with MIL-STD-810F including shock, the
vibration, humidity, immersion (for 1 hour at 1 m) and neglect
Options
- FED-STD-1045 ALE (CALM)
- MIL-STD-188-141B ALE
- Built-in GPS receiver
- Voice scrambler
- CW mode Telegraph
- Narrowband / Wideband filter
Documentation  
Data Sheet 2110