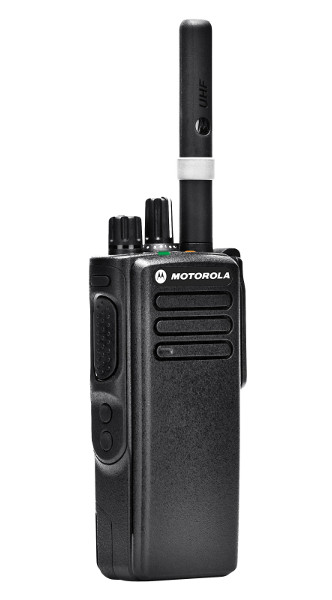 Digital radio Motorola DP4400 can operate in two modes, analog and digital broadcasting. This increases flexibility and greatly simplifies the transition to digital broadcasting services and the scheme of DMR.
Full-featured portable radio DP4400/DP4401 provides access to an unmatched set of capabilities for voice and data. The list of features of this radio module includes the ability to integrate GPS, support for audio and data via Bluetooth, as well as best-in-class audio system features voice alert and intelligent volume control.
DP4400/DP4401 radio operates in the frequency bands UHF and VHF has five programmable buttons and an emergency call button. It supports up to 1000 channels and meets the technical requirements of IP57 for submersion and standard FM intrinsic safety.
The main advantages of radio Motorola DP 4400:
- Transfer function data via Bluetooth (optional)
Exchange of information in real-time by connecting to the radio devices that support data transfer via Bluetooth
- Audio system - the best in its class
Loud speaker on the front panel and an intelligent system that adjusts the volume according to noise level.
- Built-in GPS (optional)
Locating mobile workgroups using built-in GPS.
- Built-in audio communication via Bluetooth (optional)
Compatible with wireless accessories, including a wireless headset continuous Motorola, designed to provide reliable and continuous communication.
- Application data increase productivity
The program is designed to support application developers a wide range of customized solutions, including location, data transfer via Bluetooth and works with application forms, as well as e-mail gateways, supervisory system, telephony system and "man down".

- Text Messaging
Text messages can be used in the case where undesirable extra attention to negotiations or performing everyday tasks, so as not to interfere with the employees or visitors.
- Capacity Plus
Single-site digital trunking system that maximizes the capabilities of MOTOTRBO. Provides the possibility of transferring large volumes of data and voice, and supports up to 1000 users in the same location without the use of additional frequencies.
- IP Site Connect
Digital solution that extends the capabilities of the Internet by supporting voice and data MOTOTRBO. With this system, you can connect up to 15 sites for communication between geographically dispersed sites, creating a wide coverage or extend coverage at the same site with physical barriers.
- Linked Capacity Plus
Linked Capacity Plus - this is my multi-system digital trunking platform for MOTOTRBO. It combines high bandwidth Capacity Plus, along with the capabilities to create a broad coverage IP Site Connect. This cost-effective solution allows employees from multiple remote sites use a single high-performance and large-scale trunking communication system.

- Certified Intrinsically Safe (standard FM)
If the device is equipped with a battery purchased and FM for use in hazardous environments, it is certified as intrinsically safe standard FM.
- Rugged
Reliable protection against wind and dust, and the ability to withstand immersion in water to a depth of one meter for 30 minutes (IP57).
- Basic or enhanced protection talks
Street scrambling to raise the level of protection.
- Emergency Call Button
- Orange button at the top of the radio can be programmed to send a signal to the supervisor or dispatcher in an emergency.
Specification MOTOROLA DP4400
- Adjacent Channel Selectivity 60 dBi (12,5 kHz), 70 dBi (25 kHz)
- The power in the adjacent channel 60 dBi (12,5 kHz), 70 dBi (25 kHz)
- Work in two modes digital (DMR) and analog
- Work on the digital protocol ETSI-TS102 361-1
- Good frequency stability - 1,5 ppm
- Application of digital speech codec AMBE + +
- High maximum power - 5 watts
- High power speaker - 500 mW
- Maximum sound distortion 3%
- Adjacent Channel Selectivity 60 dBi (12,5 kHz), 70 dBi (25 kHz)
- 1000 recording channel frequencies
- 5 shortcut buttons
- The emergency call
- Intermodulation 65 dBi
- USB - connector
- Availability of slots for option boards, significantly extend the capabilities of the radio
- Certification by the military standard MIL-STD quality 810 and ingress protection IP57
- Waterproofing Meets: MIL-STD 810-C/D/E and TIA / EIA 603
Documentation
Data sheet radios DP4400