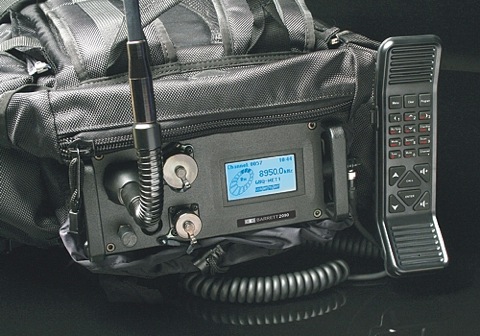 Barrett 2090 specialized durable portable HF transceiver that
has all the characteristics of conventional portable devices, but at a realistic cost.
2090 portable transceiver is equipped with a fully automatic antenna tuner, allowing use of the full range of male and static antennas. Configuring the 2090 is easily accomplished using a convenient system for programming Windows-based computer via the auxiliary jack.
Heart Barrett 2090 transceiver flexible processor core with a controlled and powerful DSP, which provides excellent reception of signals and interference suppression, along with minimum power consumption.
Increased uptime. Very low current consumption provides rabotuportativnogo 2090 transceiver from one battery pack for 20 hours. In block akkumuoyatorov integrated pcb, they can be charged without disconnecting from the transceiver or disconnected state from any available source, including solar battery, manual or wind generator.
Automatic antenna tuner
Pin and frequency-independent wire antennas are easy to deploy fully automated thanks to the integrated antenna
tuner. To deploy the night or temporary fixed stations have different light and customizable broadband antenna.
Removable display - a full-featured handset.
Display, combined with the handset, you can disconnect from
transceiver. This allows the operator to maintain full access to the portable transceiver without removing the pack. When you deploy
temporary base stations separately supplied interface cable length of 15 m transceiver allows you to place in a convenient location away from the operator.
Selective call system
Handheld transceiver 2090 in accordance with international standards with 4 - or 6-digit selective call module comprising modes Telcall, SMS, GPS-positioning and remote monitoring of the state of the transceiver, secure point to point call and remotely disable the transceiver.
Low weight
Through the use of light alloys transceiver 2090 weighs 5.2 kg with quickly replaceable unit lithium-ion batteries capacity of 10 Ah. Small size transceiver 2090 make it convenient to use and transportation in both stationary and portable versions.
Unmatched speech quality
Standard noise reduction system based on DSP reduces the noise in the external communication channels, interference and enhances audio signals, making them easier to listen to. Level of noise suppression can be easily selected under existing conditions. (Not included in the standard configuration)
SMS exchange system
The system allows you to enter the SMS-messages up to 64 characters from the keyboard of the handset transceiver 2090 and then encrypt them for transmission security. SMS can be sent to one or more stations. (Not included in the standard configuration)
Internal modem
Embedded modem cards provide modem support CLOVER, STANAG 5066 or PACTOR III. (Not included in the standard configuration)
Safe call
The innovative secure call speech coding in a narrow frequency band is very easy to use, does not create delays for handshake or synchronization and provides a secure point to point or multipoint Angular contact. (Not included in the
standard configuration)
Device voice encryption DES 56 - sold separately
Allows mode transceiver 2090 56 DES (Data Encryption Standard) analog scrambler for restoring the speech signal using Fast Fourier Transform (FFT) transmission channels with a very low signal quality. (Not
in standard configuration)
Voice scrambler based on Fast Fourier Transform
Allows the use of a transceiver 2090 in the speech mode scrambler based on Fast Fourier Transform (FFT). (Not included in the standard configuration)
Specification Barrett 2090
- Power peak envelope power 30 W ± 1,5 dBdB or peak envelope power 10 W ± 1,5 dB (peak power envelope of 100 W ± 1,5 dB) when connected via a docking device mounted on a vehicle (only in speech)
- Sensitivity (mV): 0,224 (-120dBm for 10dB SINAD - mode J3E, preamp on)
- Number of channels up to 500 programmable channels (simplex or half-duplex)
- Frequency range 1.6 - 30 MHz (transmission), 250 kHz - 30 MHz (downlink)
- Weight
Handheld transceiver 2090 3.9 kg
Block of lithium-ion batteries with a capacity of 10 Ah 1.3 kg
- Supply voltage 22-24 V from the external DC power supply current
- The average battery time of 20 hours when 10% of the time in the mode of speech
- Dimensions
2030 radio unit: 215 mm (W) x 398 mm (D) x 90 mm (H)
- Types of J3E (USB, LSB) - H3E (AM) - J2A (CW) - J2B (AFSK)
- Operating temperature range from -30 to +60 ° C IP67
- Immunity Complies with AS/NZS4770: 2000, CE, MIL-STD 188-141B, MIL-STD 810G to the immersion, resistance to shock, vibration, dust and splashes....
Documentation  
Data Sheet 2090