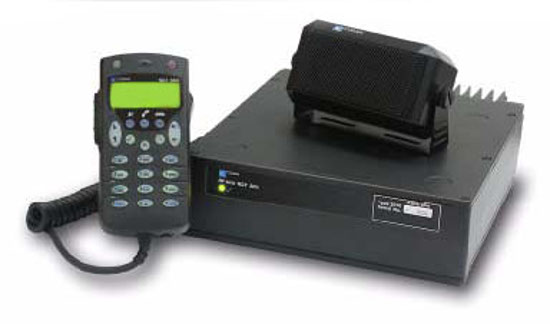 Series of professional HF transceiver NGT SR is designed to provide various communication systems solutions for professional use. Unlike NGT VR, NGT SR - HF radio is a system that allows you to connect additional devices, thus providing a variety of modes of communication.
NGT SR HF transceivers have all the standard virtues HF technology CODAN. Their standard equipment includes remote control as NGT handset function digital voice signal processing Easitalk, advanced call.
Optional equipment may NGT SR voice scrambler, the ability to automatically manage communications CALM NGT SR and capacity for data, fax, and email.
CODAN NGT series transceivers has a user interface that provides a minimum amount of training and familiarization.
NGT HF transceiver is fully compatible with the 2110, as well as with any other radio commercial and military class.
All professional HF transceivers CODAN checked for compliance with the international quality standard ISO 9001. Completely Company manufactures all the equipment supplied by yourself, with a plant for the production of printed circuit boards, metal products, which allows for immediate delivery of the required modules for repair. All equipment is provided CODAN warranty period of 36 months.
Functional capabilities HF radio Codan VGT SR:
- Flexible system solutions
Compared with NGT VR, HF transceiver NGT SR is designed to organize more complex communication systems.
When connecting the respective modems NGT SR HF transceiver transmits a wide variety of types of information - voice, data, files, faxes and e-mails.
When connecting the phone interface NGT SR HF transceiver provides for all stations in the network (NGT VR and NGT SR) with the possibility of telephone subscribers of a city or PBXs.
Furthermore, based on NGT SR possible to construct complex dispersed systems and remote-controlled.
- Types of calls
Emergency, Selective Group, Phone, Message
- Selective scanning
Selective scanning to automatically control all radio transceiver when the power dynamics. Calls can be made on any of the channels to scan.
- Communication Management CALM
The optional communication control CALM compatible with existing systems ALE standard FED-STD-1045. CALM optimizes the process for determining the best channel of communication, given the dependence of the channel states of the time and station type (mobile or fixed) that allows you to choose the best channel at any time, even if the radio was shut down recently.
CALM reduces to 80% (compared with the ALE) the frequency of the probing signal for updating the data on the passage of radio channels.
Unlike ALE, CALM system automatically recognizes the new radio network, so do not need to display the existing radio network programming for their information about new subscribers.
- Easy to install
The installation procedure professional m NGT SR transceiver in both fixed and mobile version is very simple. Transceiver is small in size and can be installed in any convenient location.
- Protection and Testing
All professional shortwave transceivers CODAN have comprehensive protection against damage such as high VSWR, over-voltage and polarity reversal, which can cause damage to the transceiver. In addition, built-in test function allows the operator to check the status of equipment with the conclusion of the report on specific parameters.
- Wide receiver dynamic range
Wide dynamic range of the receiver NGT along with outstanding sensitivity, improve signal reception in difficult conditions.
- Built-in digital voice signal processing Easitalk
NGT SR uses digital signal processing technology received voice signal in order to minimize overlap interference and noise reduction. Easitalk system is easy to operate and its effectiveness does not depend on the language being radio.
- Voice scrambler
Optional voice scrambler is built into the NGT HF transceiver and provides the security and protection of communication, allowing the operator to transmit confidential information. Scrambling procedure is very simple - to enter scrambling requires only one button press. The display shows the status of NGT transceiver mode scrambling.
Specification CODAN NGT SR
- Power
125 W (peak) decreases with increasing frequency
100 W (peak) at 30 MHz
- Sensitivity (mV): 0.12 mV at a signal / noise ratio of 10 dB
- Number of Channels 400 one-or two-frequency simplex channels
- Frequency range 1.6 - 30 MHz (transmission), 250 kHz - 30 MHz (downlink)
- Weight
2010 radio unit: 3.3 kg
Manual control unit 2020: 0.3 kg
Transition unit in 2030: 0.4 kg
- Power supply
13.6 VDC, negative ground
Nominal operating range: 10.8 - 15 In Real Operating range: 9 - 16
Actual working range: 9 - 16
Reverse polarity protection
- Dimensions
2010 radio unit: 210 mm (W) x 270 mm (D) x 65 mm (H)
Manual control unit 2020: 65 mm (W) x 35 mm (D) x 130 mm (H)
Transition unit in 2030: 135 mm (W) x 106 mm (D) x 38 mm (H)
- One sideband modes (J3E) USB or LSB or switchable USB / LSB AM: H3E
- Operating temperature range from -30 to +60 ° C Relative Humidity: 95%
- Protected in accordance with MIL-STD-810F including shock, the
vibrations, humidity
Documentation  
Data sheet radio NGT SR